SMS Configuration
SMS Configuration
InventoryPlus support configuring the SMS, Send the sales amount, received amount, balance amount can be easily notify the customer using SMS.
To configure the SMS Goto Settings -> Company Details -> General setting, Click on Email configuration will open the below screen.
Click on

SMS Configuration

: Configure the SMS sending feature click on SMS Configuration tab. Get the SMS pack from

here

and update the provided user name, password, sender id fields.
Click on Option : Select the option for auto send the SMS once transaction completed.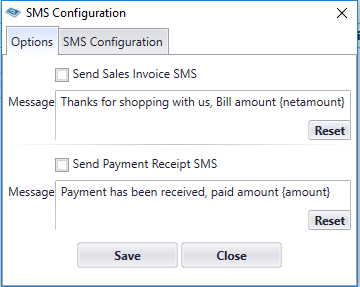 Note:
SMS Pack need to be purchased from us, contact us for more information, Membership subscription fee and SMS pack package free is different. all members need to purchase the SMS pack.

Refer

here

price list for SMS package.

Sending the SMS system required the Internet connection.

SMS can be sent to DND number, only transactional(sales, amount paid, birthday wishes) SMS will be delivered to DND number and this type of SMS will be called transactional. Promotional SMS cannot be delivered to DND number. Transactional and Promotional are 2 different type of pack available.

If transactional SMS used to sent the promotional content then account automaticaly converted to promotional.

We have SMS facility in India and some limited country.

SMS account can be created

here