Subscription Activation
InventoryPlus Subscription Activation
Activation of subscription plan: Subscription activation allowed once after purchasing the subscription,
Activate the support request goto "About US" from toolbar menu. Click on "Subscription Registration" button to open window. Send the serial number to Inventoryplus@cmsstores.com email as mentioned below format with payment reference number without fail.
Payment reference No:
Company name:
Company address:
Contact person:
Contact person phone:
Contact email:
Nature of business:
Software used in number of computers:
Registration should be done on all client systems including the server. So it is required to send all system's serial number so support team will give the registration file for each system.
InventoryPlus support team will send the registration file after verifying the payment reference, Click on "Select Registration File" button to select the registration file, Registration file will populate the company name and reseller details. Click on Register button to register the membership to enable other mentioned features.
Once after completing the registration, registration details will be displayed in About Us screen as shown below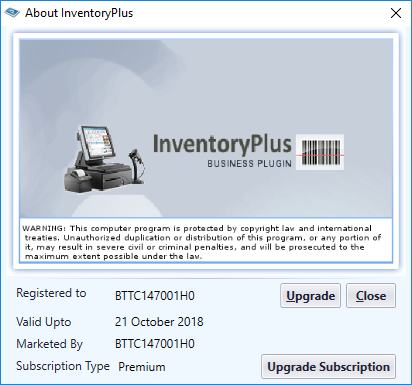 Note:
Each subscription should be used on server and all connected local system in same LAN (local area network).

Upon receiving the payment, support team will send the welcome note, replay to same email with all valid data will help to take request on priority..

Support team will consider the request only on valid payment reference number, if we receive the activation request without valid payment reference number will be discarded.